All programs are FREE. Register by calling 248-887-2218
or by stopping at the Youth Desk. If you need to cancel, please let us know!
For children's programs with limited space, preference will be given to Highland residents. Other interested folks will be placed on a waiting list the first 3 days of registration.
Programs begin promptly, so please arrive early as a courtesy to our program providers and to the other children in the program.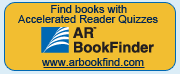 Preschool Open House
Preschool Education Expo and Shadow Play
Saturday, January 25, 11:00am
This program is for parents and their children ages 2-5.
Children: Join a parent-and-child interactive program, based on shadows, that includes guessing game, movment and shadow puppet play. Activities offered at 11:30am, 12:30pm, or 1:30pm.
Parents: Visit with local preschool providers and other early childhood education experts.
No registration is required.
Summer Reading Club
Congratulations to all our readers this summer! We had 450 participants, and it was great seeing you each week!
Thanks to the Spirit of Alexandria Foundation at www.spiritofalexandria.org for bringing us our kickoff event, the Spirit of Alexandria Nature Bus!
Some of our Summer Activities have been funding in part by a grant from the MICHIGAN COUNCIL FOR ARTS AND CULTURAL AFFAIRS and the MICHIGAN HUMANITIES COUNCIL.